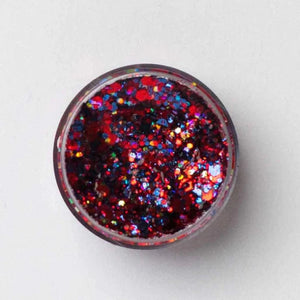 Galexie Glister - Ole Miss
Take your team spirit to the next level with Gameday Glister in your team's colors, shown here in Red and Blue! Wear it in your hair, on your face, or all over! Our Gameday glitter gels offer bold color combinations, perfect for cheerleaders, dancers, and ultimate fans. Take center stage and show the crowd how true fans show up for the big game!
Wear Gameday Glister to pep-rallies, soccer fields, baseball fields, basketball games, and football games. Bring a jar to your tailgate and Glister everyone that walks by! Your team will see you sparkling from a mile away and the opponents will surely become distracted by your beauty. 
Vegan and Cruelty-free
Fragrance-free
Made in USA